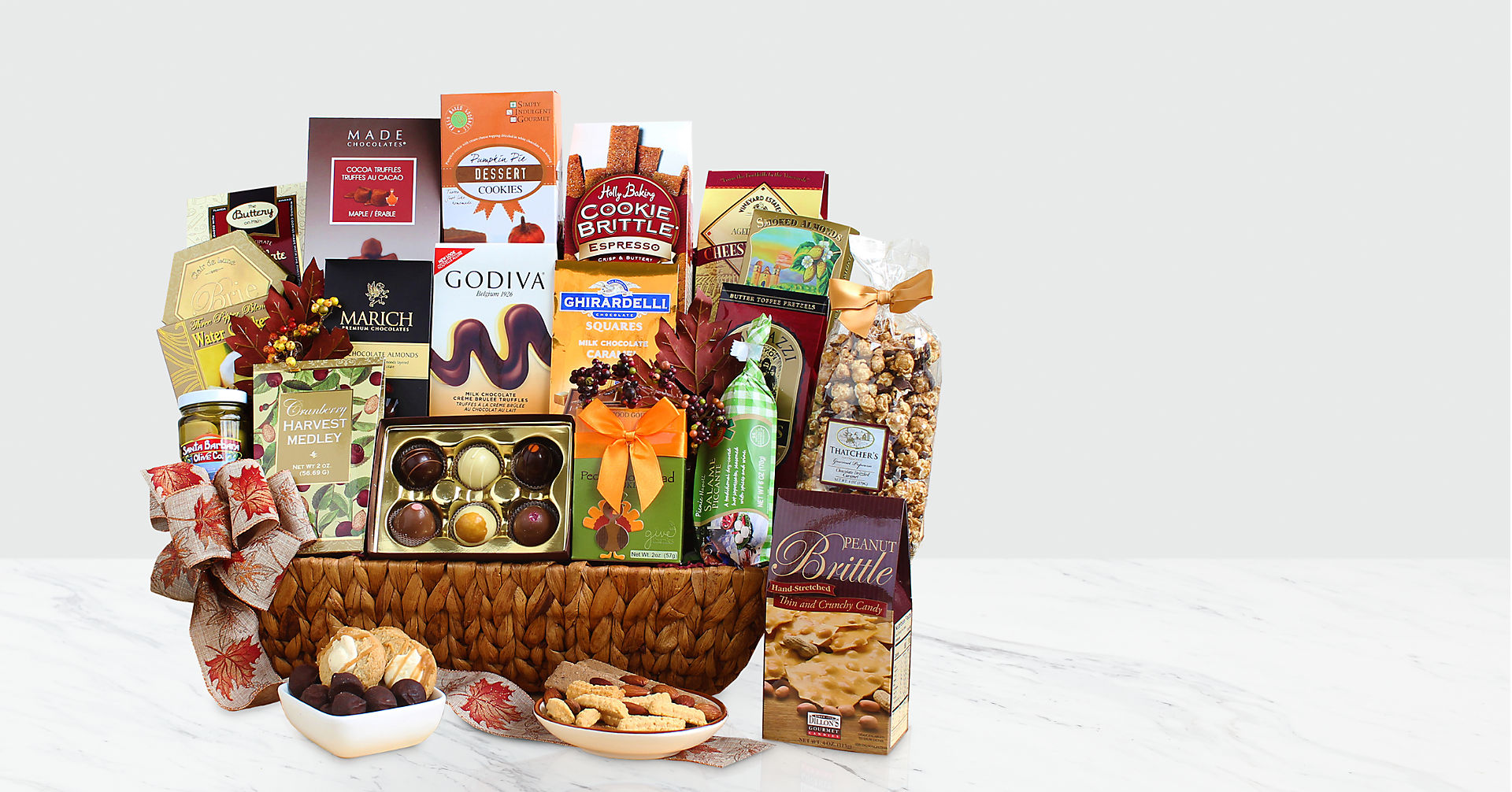 Please enable your cookies before you can select date, zip code and location type.
Fall Feast Basket
This basket is the perfect item for all of your festive occasions this fall. An intricately woven basket holds a delightful array of delicious treats, from California smoked almonds to decadent Godiva chocolate truffles and delightful butter toffee pretzels. You'll be sure to bring a smile to the recipient's face all season long. Includes:Pecan Shortbread Cookies (2 oz); Pumpkin Pie Dessert Cookies (6 oz); Chocoalte Dizzled Caramel Popcorn (6 oz); Martini Pimento Olives (2 oz); Espresso Cookie Brittle (6 oz); Milk Chocolate Covered Almonds (4.5 oz); 6 pc Truffle, Petite(4.5 oz); Ghirardelli Milk Chocolate Caramel Squares Bag (5.32 oz); Godiva Creme Brulee Truffles (4.3 oz); California Smoked Almonds (2 oz); Butter Toffee Pretzels (2 oz); Water Crackers (2 oz); Chocolate Chip Cookies (2 oz); Sonoma Cheese Straws (2 oz); Cranberry Harvest Medley (2 oz); Brie Cheese Spread (3.5 oz); Chocolate Truffles (3.53 oz); Peanut Brittle (4 oz); Napoli Piccante Salame, (6 oz); Sonoma Pepper Jack Cheese (4 oz)
ITEM #G972
Our experts ensure your bouquets are fresh and will last at least 7 days.
Sometimes it's hard to know exactly what to say. Let fresh flowers send a message that transcends words.
With fast nationwide shipping, your flowers arrive fresh with every delivery.